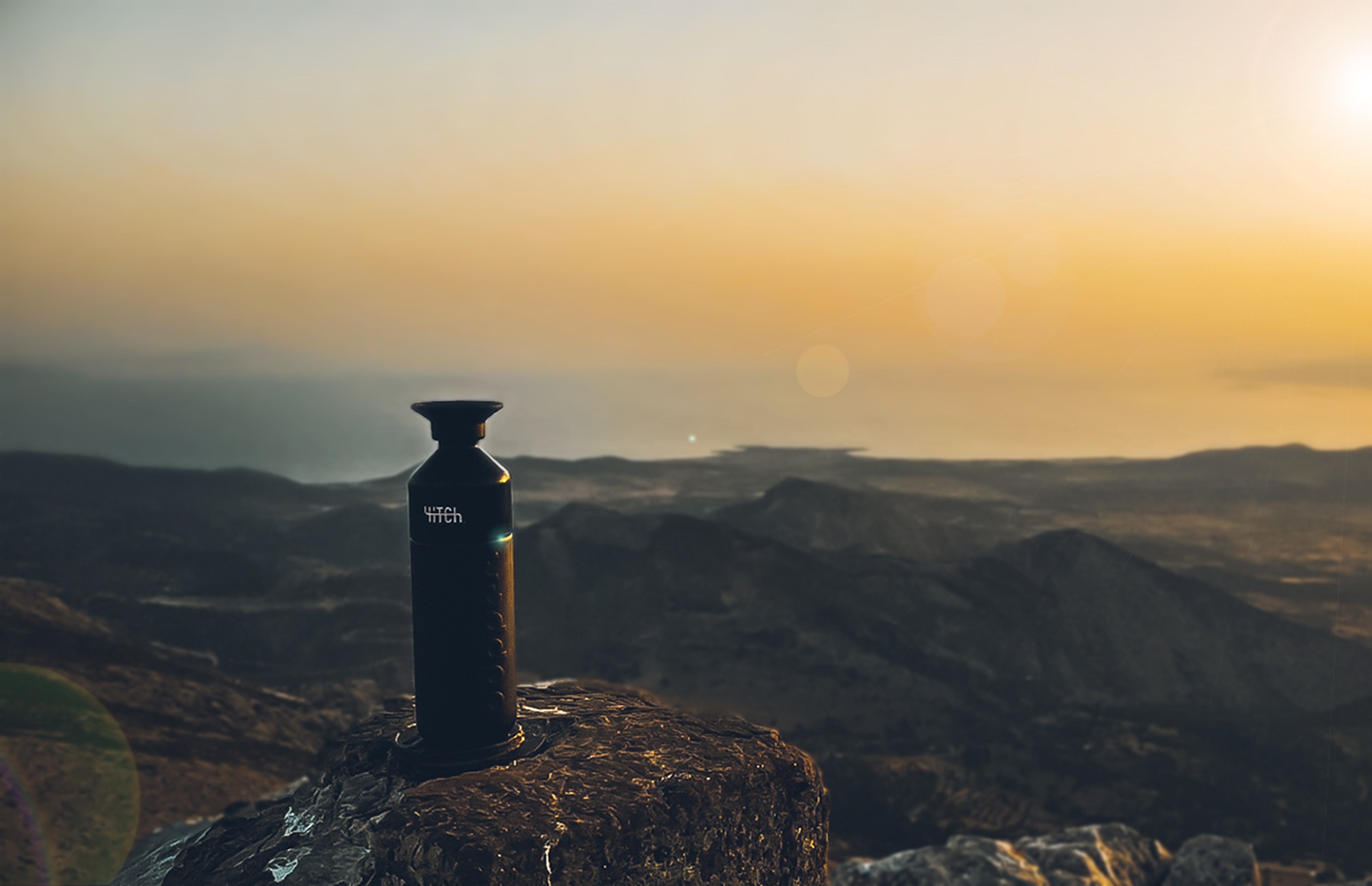 'The world is a village', that is the message that globalization conveys. Companies can do business anywhere in the world. But what the corona pandemic has shown is that the world was not as small as we thought after all. Supply chains suddenly came under a lot of pressure, delivery times increased. So there is certainly room for a local production economy, provided that the processes are smart and automated. This is exactly what Yitch is all about, helping companies to become competitive in a sustainable way.
The restrictions that governments around the world had placed on the fight against the coronapandemic are finally beginning to disappear. Like fog that clears again. In fact, many companies could no longer form a clear picture of what their future should look like because of the uncertainty. But now, is it time to go back to business as usual? Not by a long shot, if Yitch can help it!
"Why are we so dependent on Asia for electronics? Can't those components be produced here with the same quality?"
Co-CEO Werner Fransen: "We all need to start thinking locally again. Over the past few months, relocating production to low-wage countries, resulting in a large logistics chain, did not appear to be the smartest option. Why are we so dependent on Asia for electronics? Can't those electronics be produced here with the same quality? We have all seen and experienced what the pandemic and a ship stuck in the Suez Canal have caused. But apart from that, we just have to think about future generations. Wouldn't it be better to give our children attractive jobs here, rather than passing on the bill for all those CO2 emissions? Because here, too, production is possible in a competitive manner."
Strategic partner
However, the challenges are considerable: a lack of skilled personnel appears to be holding back growth for many. Automation and digitization, then, but that too can cause company managers to lose their heads. Which technology choices should you make to safeguard your competitive strength in a sustainable way? Enter Yitch.
"Don't think of us as just another automation company assisting customers with PLC programming. For us, the PLC and all the technology involved in the automation periphery is just a means to a higher end. Technology has to be translated into a concrete business case, from which profit can be gained. In other words, we want to become a strategic partner and think along with company managers in order to create their plan for the future together. Admittedly, the emphasis will differ for each company. That is why we have a multidisciplinary team, which by the end of the year will be 100 people strong, and which we assemble according to the needs of the customer so that we can always have a say," says co-CEO Wim Van Soom.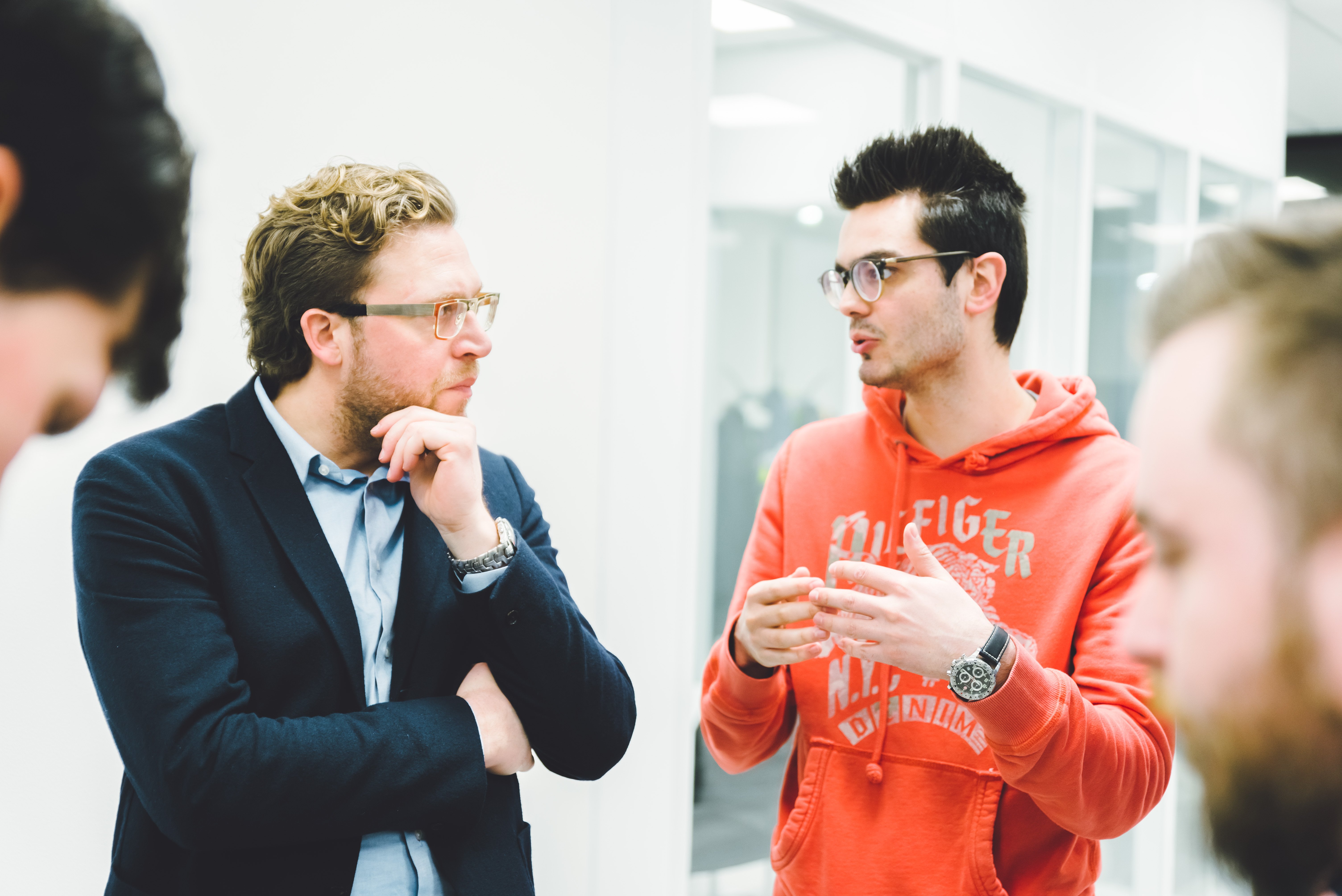 Mastering smart manufacturing
Yitch's approach is based on four pillars: Consultancy, Projects, Staffing and Continuity. A solution for every problem, and that usually starts with a good conversation.
"Companies realize that without automation and digitization, they may not be able to survive the next crisis."
Van Soom: "Automation and digitization have really picked up speed because of the pandemic. Companies realize that without these, they may not be able to survive the next crisis. Technology enables quality production to remain affordable. Therefore, the sooner we can have a say, the better we can come up with a roadmap on how a company can make Industry 4.0 its own. What can it mean to my company? What problems can it solve in concrete terms? And what does it take to do that? In this process, we like to involve everyone, from the operator to the CEO. Automation really has to be a partnership: to match the knowledge in everyone's head with the technology that is available today. From envisioning concepts, to building solutions. After all, those answers then come together in the automation and digitization projects that Yitch carries out for its customers.
Looking for an engineer?
In the coming years, quite a bit of knowledge will disappear from the industry due to the aging population. The new name and accompanying branding should put Yitch in the spotlight as an attractive brand. Not only for itself, since growth ambitions are strong in both co-CEOs, but above all for customers.
"Our third pillar, staffing, is where we witnessed the most activity during the pandemic. Over the next few years, a lot of technical staff will be retiring. We want to help fill the gap they leave behind," Fransen says. But how? - "Through our approach with multidisciplinary teams, our employees learn a lot from each other. On top of that, as they are active in different sectors, this can lead to cross-fertilization, and ways of looking at ingrained habits differently."
The most recent addition to the service package has been named 'Continuity'.
"Manufacturing companies are looking for professionals who can quickly diagnose and provide a solution in the event of downtime. Reactive, but also proactive. Based on what we can monitor using data from various sources, we will advise companies in this regard. We can then incorporate these elements in our Consultancy work, which completes all services we offer. We want to be a sparring partner for our customers."
Starting from the ground up
How Yitch wants to help companies is clear, but what can the company exactly contribute to make local manufacturing an appealing possibility again?
"Where exactly can Yitch contribute to make local manufacturing an appealing possibility again?"
Connectivity
"Before you want to get into Industry 4.0 and smart manufacturing, the fundamentals of your production site have to be right. Certain basics are required to be able to digitize, starting with connectivity. In order to efficiently control machines, valves, pumps ... and collect data from them, they must first be connected to other systems in a cyber-secure way. There has to be a secure, connected layer first," Van Soom clarifies.


Automation
The second piece of the puzzle is automation. "A puzzle piece that differs depending on who you talk to. We have experts in PLCs, DCS, HMI ... in the ranks who understand the customer's needs to optimize his processes, but also the operator's demands. After all, it is he who will have to make adjustments when necessary, so a good human-machine-interface is crucial."


Digitization
Only when that foundation is well in place can digitization be added to the puzzle.
"Digitization is about providing the right insights at the right level based on all the data that is available. Today, a production order can be routed completely digitally through production, from placing the raw materials at the proper location in the warehouse to even avoiding unplanned downtime. Not in one big bang, but built up gradually. Think in small steps. To go digital, adequate maturity is needed and it needs to evolve," Fransen adds.
"It is crucial for Yitch to understand the needs of clients, be close to them, and think along with them..."
Always from the point of production
To make that happen, Yitch always works from the inside out.
"We have been in production environments ourselves for over a quarter of a century. Together, our team has 450 years of professional experience. Yitch already has well over 2,500 projects to its credit," Van Soom juggles the math. "And it always starts from OT (Operational Technology). It' s crucial for us to understand the needs of clients, be close to them, and think along with them... In addition, we stick to agility and a vast experience in different systems and sectors. We select the right skills for each project based on what is needed, both at a human and technological level."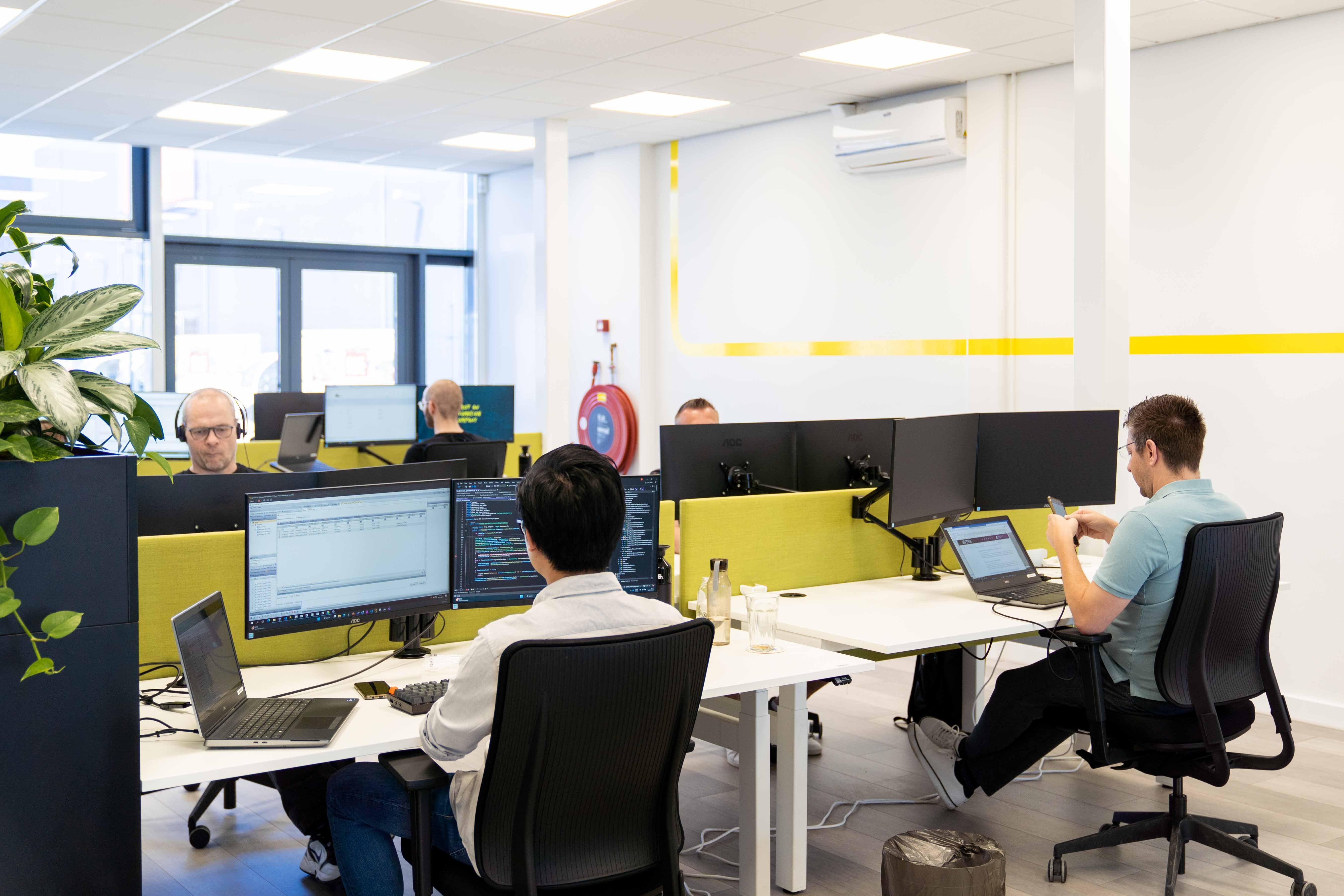 "Another important thing to note here is that we are not tied to anyone. We do have certain certifications that prove we can guarantee quality, but we are always free to choose between technologies to help the customer in the best way possible."
Yitch's experts themselves are constantly on top of all relevant technological developments. They then channel that knowledge to a broader group of engineers, including both colleagues as well as university students.
"Bachelor's and master's theses often have some very innovative ideas at their core.It is interesting to bring those new ways of thinking into the company and then see the interaction that arises from working with experienced engineers," Fransen explains.
Plenty of potential to relocate production back here
Within five years, the co-CEOs hope to triple the turnover of 10 million euros. However, this is not the target as such.
"If either new companies emerge in our region, or companies decide to bring their production back here, because they can produce competitively in a sustainable way, then our mission will have succeeded!"
"If there are new manufacturing companies active in the region or companies that have turned back from low-wage countries because they can produce in a sustainable competitive manner here, then our mission will have succeeded. In Belgium, there is insufficient effort to stimulate the manufacturing industry. The country is full of warehouses with low added value, but entrepreneurs who want to produce their own products do not always get enough space to do so. Yet we believe job creation is the way to ensure our welfare. If we, as a strategic partner, can help to support production companies, get more women into technical jobs, and send less CO2 emissions into the air, we will be very pleased," they conclude.
Who are Werner Fransen and Wim Van Soom?
The path of Werner Fransen and Wim Van Soom shows many similarities. Both graduated as masters in engineering from the University of Leuven (Faculty of Engineering Technology - De Nayer Campus), after which they started working at the then Reditech as automation engineers in the early 2000s.
"Both of us have always been interested in technology, and that's what it's all about," Van Soom summarizes. Tried and tested by projects at home and abroad, they decided to join the management team in 2006. The beginning of a new era of growth, in which the company went from 12 to 85 employees, spread over three branches in Bornem, Genk and Breda."
"When the original founders decided to leave Reditech in 2016, it was time to take the next step: setting out on our own course. The provisional climax came in early 2021 with a new company name that better captured what drives us: Yitch! The new name focuses less on engineering itself, but speaks of our passion (itch) for technology to connect both our customers and our employees (Y from you)," Fransen said. "It reflects Why we do what we do."
---