The food industry is in motion. It has been for many years, but the movements that are involved in that motion are increasingly being made in an automated way. Think of processing, packaging, palletizing, etc. Lan Handling Technologies is specialized in the engineering, production and integration of retort room automation solutions. Since this often involves customized work on a project basis, it is a thin line to have enough, but not too many, engineers in house. In order to be able to deal with the peaks, Lan Handling Technologies has been calling on Yitch as a staffing partner.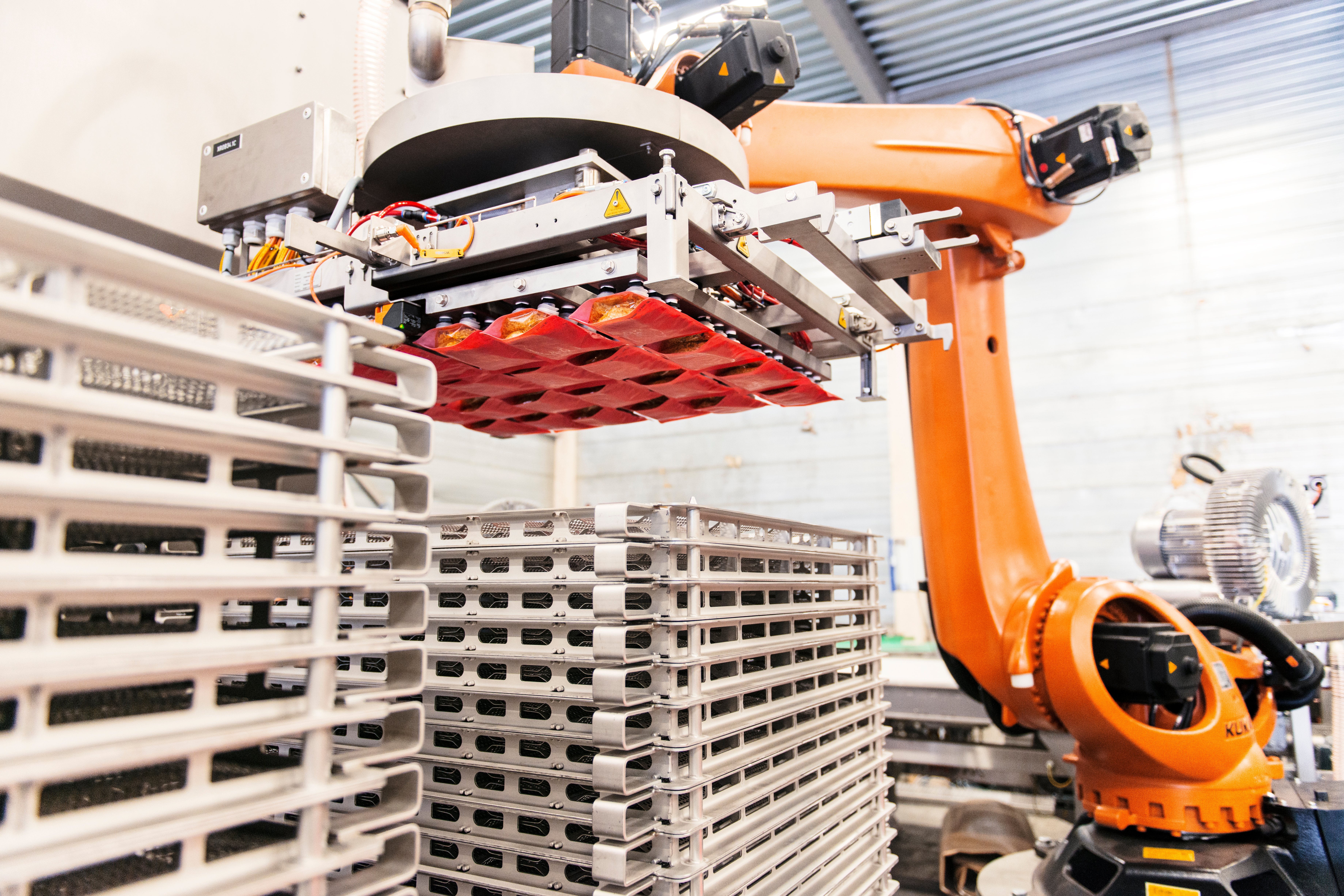 Lan Handling Technologies
Nestlé, Mars, Danone, Bonduelle, HAK,... The companies that have called on Lan Handling Technologies in the past half century are no small names. They are all international players with production lines located all over the world. Today, the majority of the Dutch solution provider's field of activity - 90-95% - lies outside the Netherlands. From Russia to Australia, from Thailand to Mexico and from Canada to China. Or in other words: global!
"The solutions we design (such as robot loaders and unloaders, in-line drying systems and telescoping retort shuttles) are mainly used in the production and packaging of food, being pet food or food for human consumption," says Jörgen Kocx, Supervisor Software Engineering within Lan. "Apart from that, a number of companies in the pharmaceutical industry also rely on our services. It comes as no surprise that it is precisely in these sectors that we excel, given our specialty in retort automation solutions for products that need to be sterilized. Logically, most of our installations can be found close to the autoclaves or so-called 'retorts', which let us connect to the filling machine that fills and closes the products, on the one hand, and with the packaging machines that put the product in the boxes, on the other."
"The custom-built handling systems ensure that a product can be conveyed as economically as possible to the autoclaves, and then to the packaging machine, if necessary, with intermediate operations such as drying or sampling. Given that our solutions are connected to the filling machines, they must also fully comply with the strict food legislation, even if there is no contact between Lan's systems and the unpackaged product. But here we try to unburden our customers as much as possible."
Fluctuations in volume due to project-based work
"We operate on a project basis, which includes three phases. The first two, engineering and testing, are done in-house, while commissioning takes place on site, obviously. Given that there can be some variation in both the number and duration of projects, we are faced with a constantly changing workload. In order to cope with these fluctuations, we prefer to work with fixed partners, so that we can determine in advance which engineers will help us out. That's the reason we chose to team up with Yitch."
"In order to cope with a constantly changing workload, we chose to team up with Yitch as a fixed partner"
"Recently, together with Jörgen, I figured out that the first ever collaboration between Yitch and Lan must go back about 12.5 years by now," Sjoerd van Unen of Yitch smiles. "The exact kick-off date slips my mind, but it's been quite the run, right?" - "Maybe Wim (van Soom, co-CEO at Yitch) can recall them," Tom Verhagen, Manager Engineering at Lan Handling wonders. "After all, he too has done some work for Lan in his time."
Here you can read Wim's testimony again!
Changes to the partnership?
Has anything changed since the beginning of this collaboration? "Of course, technological innovation never comes to a halt suddenly, which is why you are regularly confronted with a new issue. Just think of the steep rise of robots (see below)", Tom Verhagen looks back. "The tasks for which you need extra people also change, but not the reason: meeting additional capacity. Moreover, Yitch - and the level of knowledge of its people - has also advanced significantly. The expertise and skills of its people are perfectly in line with today's level of engineering and technology."
"The expertise and skills of the tech-savvy Yitch-engineers are perfectly in line with today's level of engineering and technology."
"Basically, there are 1 to 4 people from Yitch with us throughout the year," says Kocx. "If one project is finished, or in a final phase, they immediately take on a new one. What's more is that, the longer someone from Yitch is here with us, the more experience they gain and the quicker they can move on to the next project."
The rise of the robots
The use of robots is much more common today than it was 10 years ago, partly because of prices, but undoubtedly also because of the wider range of techniques and solutions available. Perhaps for these reasons, the advance of (handling) robots - especially in the last 5 years - seems unstoppable. Lan Handling Technologies itself sticks to A-brands like Kuka, Fanuc and ABB, with Yitch engineers taking care of the software part.
"As an example: Yitch engineers co-write a solution that is needed at a customer's site, but - given that they know the configuration of the particular solution - they can also confidently contribute to the rollout and commissioning of those same systems on site," says van Unen.
Want to become a Yitchie yourself?

"Furthermore, Yitch also standardizes the software modules at Lan, so that the PackML-software ('Packaging Machine Language', an industrial technical standard for the communication and control of machines) can be reused and improved. By doing this, you can better safeguard your knowledge on the one hand but also immediately expand it within your software on the other."
The global health crisis and the benefits of Staffing through Yitch
The pandemic made traveling during certain periods impossible, something Lan - and Yitch indirectly - could certainly experience. However, it also illustrates the strength of the partnership. "Given that the commissioning of systems abroad was no longer possible, we were forced to stop calling on staffing through Yitch for six months," says Verhagen.
"Our presence at Lan was simply of no use when traveling was prohibited ," Sjoerd van Unen shares. " You might say: `Hey, you ordered engineers, you'll get them', but that would show little flexibility. And that's just what we, as Yitch, stand for. And so, in close consultation, we made the decision to deploy our people elsewhere."
"It may sound strange, but this is precisely the added value of this type of service," adds Verhagen. "We can have technically savvy technicians at our disposal when the urgency is there, but not have to bore those same people when the need diminishes. So you could say that the pandemic has further accentuated the benefits of this type of service."
"The pandemic captured the added value of Staffing as a form of service: we had access to technically trained technicians when the need was high, and didn't have to let people go when things slowed down. Compare it to the way a lung works!"
Flexible use of capacity
"What we as a company were looking for in a partner like Yitch was mainly flexibility, and we found it," believes Verhagen. "Compare it to the way a lung works: in the same way we wanted to be able to scale up and down capacity, through Yitch. It requires a certain degree of agility, of flexibility, and a good understanding. Because while in some cases we can give long notice that there is a need for an engineer (or just not), in other cases that need has to be met far more quickly. A pool of Lan-experienced Yitchies is of the utmost importance in this regard. To create that group, we deploy Yitch engineers when the need is not so high, so that they have time to learn how Lan works. In turn, this ensures that, during periods of high demand, there will always be a Yitch engineer with Lan knowledge to help out."
Two-way partnership
"Our automated systems capture the imagination and we see that young software or commissioning engineers really appreciate the learning experience they get here. And you can safely say that the relationship works both ways: not only do we benefit from the services that Yitch offers us, but Yitch itself can also benefit from the experience and expertise that its engineers can gain within our company", Verhagen says, assisted by his colleague: "I dare say, judging from the past 5 years, that the Yitch software engineers that we have hired, have left with a greater experience profile and more expertise. So I do think that, in addition to being a loyal customer, we're also a good teacher."
"I do think that, in addition to being a loyal customer, we're also a good teacher."
"True", van Unen seconds Kocx. "As Yitch, we always like to think along with our customers, in terms of digitization projects and automation, but just as much when it comes to staffing. And so it is not wrong to say that we too are grateful for the experiences that our people can gain here!"
"And if another Yitch client is in urgent need of an engineer, while we have quite a bit of room, we are certainly willing to let the Yitch engineer go for a while," Verhagen concludes. "A two-way relationship at its best!"
Need some extra hands? Check out our Staffing solutions
---